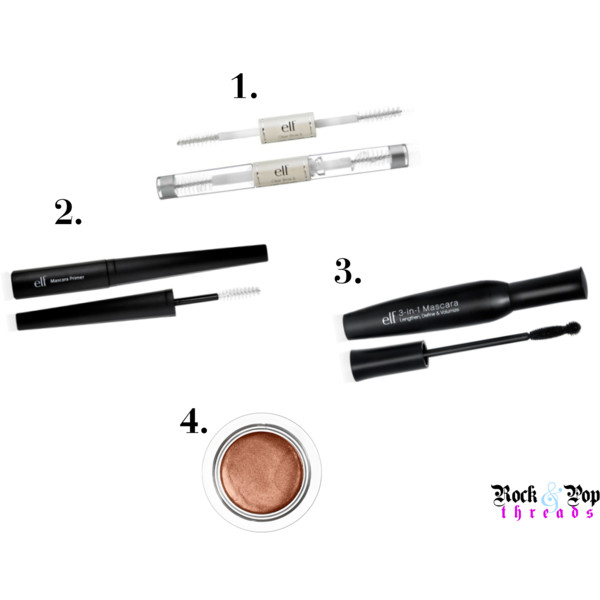 Since I began wearing and purchasing makeup, one of my favorite brands has been e.l.f. Cosmetics. The prices are affordable but the products are legit. Take a look at a few of my staples that I highly recommend for fellow beauty haulers!
This mascara comes in a two-sided tube with two well-defined brushes. The brow side is hands down my favorite of the two. The serum is not gunky, and it sets your brows to a totally natural look. I have never used this mascara with brow makeup and strongly don't suggest it. Running this brow brush over loose makeup will coat the brush and make your serum dirty. As for the lash side, I prefer not to wear it alone because my lashes look thinner and stringy. I do, however, use it under a light coat of black mascara to bring subtle definition to the natural lash.
When I tried this primer for the first time, I was amazed with the results! It volumizes, lengthens, and thickens. I apply two coats to my top and bottom lashes. I wiggle the brush at my lash line for more volume. Then, I wait a few minutes for it to set before I apply black mascara. This primer keeps the lashes from clumping even when mascara is applied. I am thrilled with how dramatic my lashes look after using this technique.
At first, I bought this mascara just to try something new. When I got home, I researched it and found great reviews about the quality compared to more expensive brands. I was immediately super excited and ripped open the box to test it. Of course, I started with the e.l.f. mascara primer. When I opened the mascara, the spiky ball on the end of the brush was a new discovery for me. I applied the first coat and loved the clumpless formula. Next, I applied two more coats and stepped back to examine my lashes. I was shocked! My lashes had more volume, length, and thickness than ever before. This mascara is without a doubt 3-in-1.
Don't underestimate the power of this tiny pot!
This shadow sets quickly and you will have to work fast to blend correctly.
First, I take a small brush to apply shadow to my lid and then work it up into my crease. Immediately after, I begin to blend my crease and lid. I add more shadow where needed and blend again. Lastly, I apply eyeliner and mascara.
The result is a creamy bronze shimmer. It
lasted me all day and only wore off a little in my crease.
Try these products for yourself! Buy them at e.l.f. Cosmetics, Target, and Walmart.